AIR FILTERS
DuPont™ High Allergen Care
Starting at
$8.00
Please select a filter size for availability and pricing.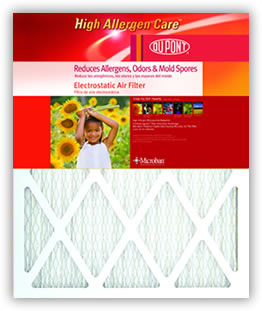 Description
Reduces Allergens, Odors & Mold Spores

Merv 11 Filter
Electrostatic Air Filter
Lasts up to 3 Months
Includes Microban® and OGuard™
This filter features highly effective allergen filtration and helps reduce the airborne allergen particles and mold spores inside your home. The result is cleaner air for you and your family to breathe.

Microban® antimicrobial product protection inhibits the growth of bacteria, mold and fungus that can cause odors and adversely affect filter performance.

OGuard™ technology effectively combats a broad range of household odors, for an added level of comfort.